| | | | |
| --- | --- | --- | --- |
| Parental intrusion ruining couples' marital life: Delhi high court | | | |
| | | | |
| --- | --- | --- | --- |
| Judge jails mother who falsely accused ex of sex abuse and alienated him from kids | | | |
| | | | |
| --- | --- | --- | --- |
| Fatherhood needs redefining, says UN report | | | |
| | | | |
| --- | --- | --- | --- |
| Helping alienated parents cope | | | |
Written by David Pisarra
Thursday, 17 February 2011 08:23
When a parent loses a child it is universally recognized as a tragedy. Whether by accident or disease, the sympathy, empathy, and tears flow freely. I recall a college friend who was killed by a bus on a cross-country bike trip. His parents were inundated with emotional support. To this day, 23 years later, I still think about him, and what his mother said to me on the day of the funeral.

But there are parents who lose their children and receive no support, no great outpouring of love, no tears. Instead they receive quizzical looks. People whisper behind their backs, wondering "what really happened." These are parents who have lost their children through "parental alienation."

Almost every separating couple goes through some level of parental alienation, which for the most part is nothing more than mom telling junior his father is a jerk, or dad telling Susie her mother is inconsiderate. For most couples going through a breakup this behavior ends and the children's relationship with the other parent is not permanently harmed.

Read more...
| | | | |
| --- | --- | --- | --- |
| More than 40% of domestic violence victims are male | | | |
Written by Denis Campbell
Thursday, 17 February 2011 08:17
Campaign group Parity claims assaults by wives and girlfriends are often ignored by police and media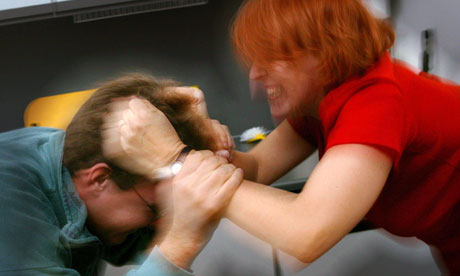 About two in five of all victims of domestic violence are men, contradicting the widespread impression that it is almost always women who are left battered and bruised, a new report claims.
Read more...
| | | | |
| --- | --- | --- | --- |
| Contesting Rights Over Children | | | |
Written by Flavia Agnes
Thursday, 17 February 2011 08:09
Contesting Rights Over Children
Custody and Guardianship in Matrimonial Disputes
Flavia Agnes 
 
The recent Supreme Court judgement delivered on February 2, 1999 declaring the mother as a natural guardian of her children is hailed as a path breaking one in the realm of Indian family law. (See, Geeta Hariharan vs. Reserve Bank of India, 99(2) SCC, p.228) Many have interpreted it to mean that women will no longer be haunted by the fear of losing custody in matrimonial disputes, as now they are elevated to the status of ?natural guardians?.

In my view, this is rather an exaggerated rating of the judgement. The issue of custody had already been decided in women?s favour in many earlier decisions. In the present case, the apex court did not address this issue. The question before the court was a limited one, whether mothers could also be deemed as natural guardians during the lifetime of their husbands. Section 6(a) of the Hindu Guardianship and Minority Act, 1956 (HGMA) stipulated that the father is the natural guardian of the minor and ?after him? the mother. The court reinterpreted the words ?after him? to read ?in his absence? in order to arrive at a harmonious interpretation of the constitutional mandate of gender equality.
Read more...
| | | | |
| --- | --- | --- | --- |
| Is equal parenting really better? | | | |
Written by Andrea Gordon
Thursday, 17 February 2011 08:06
Amid the chattering-class angst that's raging over Amy Chua's Battle Hymn of the Tiger Mother, one question stands out: Where was Tiger Dad?
Chua is the Yale University law professor whose book about raising two daughters as a coercive, perfectionist "Chinese Tiger Mother" has sprung to the top of bestseller lists. In it, she describes a home life that sounds like a boot camp for overachievers. Chua roars that Chinese moms instill excellence and self-discipline, while their touchy-feely Western counterparts overindulge kids with praise, choices and fun.
Whatever the reader might make of that argument, something in her story jars like a sour note at Carnegie Hall: Her husband — the girls' father — plays a minor role.
It's fair to wonder why mothers are churning out anguished books on parenting (Mommy Wars, Bad Mother, Confessions of a Slacker Mom), while TV commercials are tutoring fathers on the merits of phoning for takeout by "finger cooking"? It's as if the last half-century has hardly moved the dial on the division of domestic labour.
Read more...
| | | | |
| --- | --- | --- | --- |
| The children who never see daddy | | | |
Written by James Chapman - www.dailymail.co.uk
Friday, 11 February 2011 14:00
The children who never see daddy: Tragedy of Britain's fatherless families where one in five youngsters lose touch with a parent
 
Read more...
| | | | |
| --- | --- | --- | --- |
| Domestic violence myths help no one | | | |
Written by Christina Hoff Sommers
Thursday, 10 February 2011 10:13
"The facts are clear," said Attorney General Eric Holder. "Intimate partner homicide is the leading cause of death for African-American women ages 15 to 45."
That's a horrifying statistic, and it would be a shocking reflection of the state of the black family, and American society generally, if it were true. But it isn't true.
According to the Centers for Disease Control and Prevention and the Justice Department's own Bureau of Justice Statistics, the leading causes of death for African-American women between the ages 15–45 are cancer, heart disease, unintentional injuries such as car accidents, and HIV disease. Homicide comes in fifth — and includes murders by strangers. In 2006 (the latest year for which full statistics are available), several hundred African-American women died from intimate partner homicide — each one a tragedy and an outrage, but far fewer than the approximately 6,800 women who died of the other leading causes.
Read more...
| | | | |
| --- | --- | --- | --- |
| Estranged techie couple reunites, but police spoil party | | | |
Written by Hemanth Kashyap
Saturday, 05 February 2011 12:48
It could well read like a script of a chick flick, but it's for real and it's the police who are spoiling the plot. Sushma Dubey, a techie, had separated from her husband, Sanjay Ranjan, also a techie. On the advice of her sister, she filed a dowry harassment case (498A) against her husband. Sushma did not know all the details and merely signed the papers prepared by her sister.
Read more...
<< Start < Prev 21 22

23

24 25 26 27 28 29 Next > End >>


Page 23 of 29